So, you're already writing high quality content that is showing off your passion, experience and knowledge of a particular subject; but are you making sure that readers are coming to your site on a regular basis and telling their friends how great your blog is?
Maybe some of you are, but for those bloggers who are constantly looking for more ways to improve their blog, I hope that this post helps in demonstrating the importance of integrating social media icons into your blog design. In an earlier post, Russ highlighted that getting social with your blog is crucial to having a successful blog that attracts and retains your readers interest. Now, I'm going to delve into why social media icons are so important in achieving this; where you can find them; and how to install them.
The first thing to remember is that your readers are busy people, just like you, who maybe don't have the time to visit your blog daily to see if you've posted new content. Since these readers are very valuable to you, it makes sense to make it easy for them to find you on the social networking sites that they do visit on a daily basis, which act like an aggregator for all the blogs and other websites that they are interested in following. When you update on your Twitter profile or Facebook page that a new post is up, this comes into your readers news stream and makes it more likely that they will come to your content as you're communicating on a platform that they are already engaged with.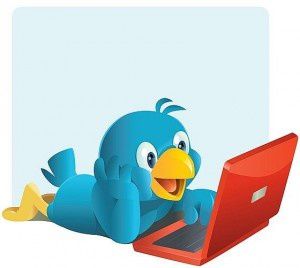 Installing social media icons on your blog that link to your relevant social profiles will give your blog a more personal touch, and allow readers to interact with you away from your blog. This will help to cement more personal relationships with readers that they will love, as it means that they can have conversations with you, away from the comments box and get to know you as a virtual friend. However, there is no need to include all the social media icons you can find on your blog, as this can result in the design looking cluttered. You need to choose icons for social networks you feel are the most relevant to your audience. The more social networks you present on your blog, the broader your audience reach as readers have different preferences for socialising.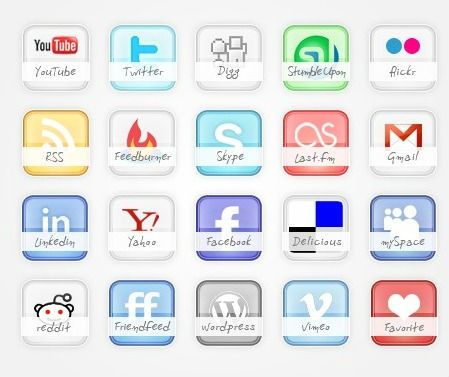 To support a successful social media strategy, the social icons you choose to represent your profiles, should fit seamlessly with your blog design so that they don't look out of place and have that tacky 'copy and paste' effect that will turn off readers.
Here are 13 social media icon sets, to help you in your quest to find the perfect match for your blog design and style. I have chosen some quirky, some sleek, and some sophisticated designs to choose from, so I hope you find something that works for you:
Another great use of social media on your blog, is to make everything you post more shareable. If you install links such as those found at the bottom of posts on the Ebuzzing blog;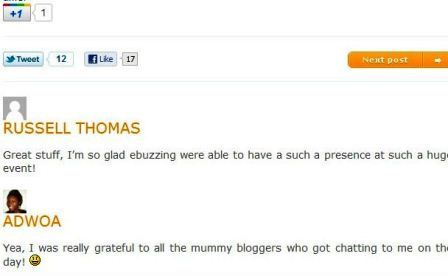 It makes tweeting or sharing your content on Facebook much easier for readers as the buttons are just there, and they don't need to leave your site. Installing the 'Retweet this' and 'Facebook Share' button is a must for every blogger, however, there are lots more buttons that you can add for 'StumbleUpon' and 'Reddit' to make sure that users on these platforms can share your content too.
The most recent addition to the sharing button family is Google +1, which brings more personalisation between your blog readers. Google describes the button as shorthand for "this is pretty cool" or "you should check this out!". When one reader searches for a keyword and your blog comes up as having been +1'd by someone from that reader's Google contacts, that reader will be much more likely to click your link as it has been recommended by friends, family or other contacts whose opinions they trust. Feel free to +1, retweet and share this post on Facebook if you have found it to be helpful!
Now, here are some useful links for installing social media icons to your blog, and also the Retweet, Facebook Share, and +1 buttons to your own blogs.
Happy blogging!