Car Buzz: blogging & car brands
As part of our latest study, Cars & Social Media, we spoke to three top car bloggers to get their take on blogging within the automotive sector, and how they feel about working with brands and branded content.
We thought it'd be great to share the full interviews with our blog readers, so you can better understand what motivates a car blogger, why they choose to monetise their blog, how the evolution of social channels is affecting them, and how they interact with brands.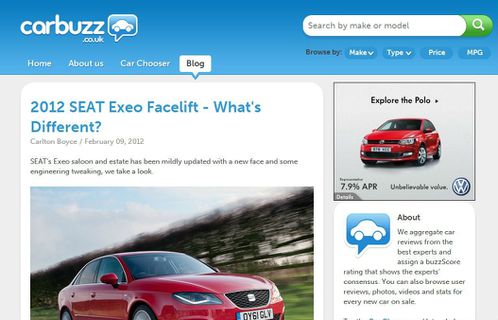 Over the next few days, we'll be publishing our car blogger interviews. Up first is James Hind from Car Buzz - get some top tips from him on how to grow a successful blog within a competitive blogging segment:
Ebuzzing (EB): What makes your blog stand out from the crowd?
Car Buzz (CB): We're not afraid to give our true opinions on things, unlike most other car blogs. We never just rehash press releases; we always add value to the new story for our readers by giving our expert opinion. If that means honest criticism then we'll include it!
We also make sure we regularly do a lot of fun and light-hearted features, such as our Top 10 Zombie Survival Cars and the range of infographics we've produced. They're something a bit different for our readers and get shared with a lot of people that aren't car enthusiasts too.
EB: What motivates you to blog?
CB: We love hearing back from our community from the blog. Nothing's better than when they share their views on a news item, or ask further questions or even challenge us over something.
From a business side it's also a nice way to get yourself noticed. Blogging is a great way to differentiate your product or service from the competition and to show you're knowledgeable in your field.
EB: How do you market your blog?
CB: We haven't done a great deal of marketing for the blog actually. We don't pay for any SEO or PPC.
The only marketing we've done is through doing guest posts on other car blogs, which is a nice way to get enthusiasts aware of our blog.
EB: What do you think makes a successful blog in the Automotive blogger niche?
CB: I think you have to find a way to be different. The problem is that everyone is writing the same news stories and unless you can be the ones to break the news, which is highly unlikely, then it's hard to be memorable and have a reason for readers to come to your site.
I also think the frequency of posting is important. Too much can put people off as they feel you're spamming them with content every day; too little and it's impossible to build a following.
EB: How do you feel about monetising your blog? What is the value added of branded content on your site?
CB: Currently, we monetise the blog through display advertising and occasional editorial features. From a business point of view it's obviously critical to monetise it, and we're happy with the way we do it as we believe it adds value to the reader. For both display advertising and branded content, we only accept them if they are related to cars, meaning our readers should get some value from seeing them both.
Branded content is important for us in terms of revenue stream, but we are very careful to select only high quality stuff from trusted agencies with well-known clients, which is why Ebuzzing works so well for us.
EB: Have you already taken part in a campaign that you particularly enjoyed?
CB: We did a nice campaign with Red Bull Racing through Ebuzzing that featured a couple of stunning videos of an F1 car tearing along a beach, and another F1 car racing up the side of a mountain!
EB: How has social media affected your blog?
CB: We've found Twitter to be a great tool for building industry relationships and also driving traffic. Facebook, we haven't found to be quite so successful yet, we haven't concentrated much on it at all, so aren't seeing a lot of traffic yet coming from there.
In 2012 we plan to make our readers more aware of our Facebook page and encourage new users to join through competitions.
EB: What does the future hold for social video in your opinion?
CB: I think video will increase hugely in the next couple of years. We already see that video is generally more shared than editorial content is, and the constantly increasing role of mobile will only extend this further. We get over 10% now of visitors on mobile devices, whereas last year it was closer to 5%, a big jump in just 12 months. Our site features a video page for each new car on sale, and we've seen that after the review pages, these are the most popular. Video also seem to be shared a lot more, we see on our Facebook and Twitter profiles that they tend to get more shares, partly I think as it's so easy to watch them within those platforms, without having to leave to external site to consume the content.
EB: Will "vlogging" become essential in the future to capture your audience's attention?
CB: I believe it will become a key part of any succesful blog. Vlogging is a great way to show your personality to your readers and lets them get to know your style a lot quicker than written content. Our industry is a very visual industry, people like to see the actual car talked about, so I think it's especially important for auto-blogs. We haven't started vlogging yet just because of the time it takes, not only with filming but also editing after.
EB: Regarding the automotive industry, what are the factors that your readers consider more attractive? Consumption, innovation, environmental concerns?
CB: Consumption and environmental factors are key to car buyers, which is who our blog is targeted at, so posts on those topics always go down very well. For example our post on Congestion Exempt Cars is our most popular post ever in terms of traffic.
EB: What car would you vote as The Car of 2011, in terms of the amount of online buzz it's created?
CB: This is an easy one: The Range Rover Evoque. The launch was very carefully and cleverly planned, with lots of anticipation built throughout the world for it. They did a number of teaser videos and gradual reveals months before it was launched, which created a huge build-up. Once it launched the product didn't let it down either, the bold styling and all-round quality meant it's got a fantastic reception and has already won huge amounts of awards.
EB: The automotive market is suffering from a crisis currently. Has your blog been impacted, or has demand for automotive-related content remained unchanged?
CB: We've only be going for a year now, so haven't had a chance to notice any changes, as our traffic has been growing non-stop since! We have seem demand for fuel efficiency and money saving articles increase in the last 6 months though, which shows that the running costs and price of cars is becoming increasingly important.
EB:This year, which viral campaign has really stood out to you as being unconventional & innovative; and why?
CB: The one that Mercedes are running at the moment using Google Maps is quite clever. It involves users trying to help someone 'escape StreetView' through an interactive video, so there's an element of competition and challenge in there, as well as the chance to win a brand new Mercedes.
EB: When you notice an automotive brand on Facebook, what do you do?
a) Like the page straight away
b) Just read the comments on the page
c) Start interacting on the page
d) Other
CB: (c) I always like to see how strong the community is by getting involved and asking a few questions. I've seen a few brands have huge numbers of Likes, but actually no one is engaging with their content, whereas other brands don't have many fans, but those that are there are very involved in the page and regularly contribute.
So, which viral car campaign stood out to you over the past year? Let us know in the comments below.
It was great to have Car Buzz involved in our study - stay tuned for more car blogger interviews over the next couple of days! If you'd like to get involved in our upcoming studies then just let us know.