December's Spotlight on Social Video
Each month the Ebuzzing Social Labs monitor hundreds of branded videos and compile the results in a social spotlight to find out what's going on in social video. December's spotlight is an interesting one. Christmas is almost non-existent as all brands released their Christmas ads in early November to guarantee maximum exposure in the build-up to the big day. Instead technology, travel and Turkish Airlines dominate this month's spotlight on social video.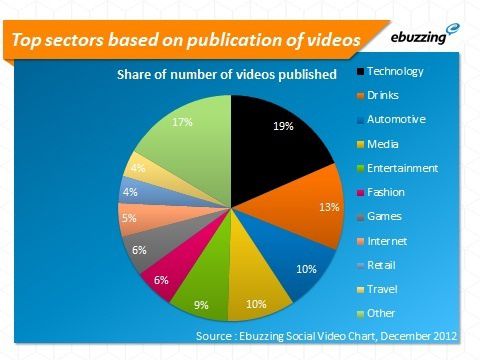 Once again the tech sector maintains the top spot, publishing the most videos in December, although their share drops from 24% to 19%. Gaming falls the most - in November it was in second place, producing 17% of all videos published but this drops to just 6% in December. This was probably due to most brands releasing campaigns in November to be ready for the early Christmas shoppers. Automotive climbs from 8th to 3rd place but only increases its share of video releases by 6%.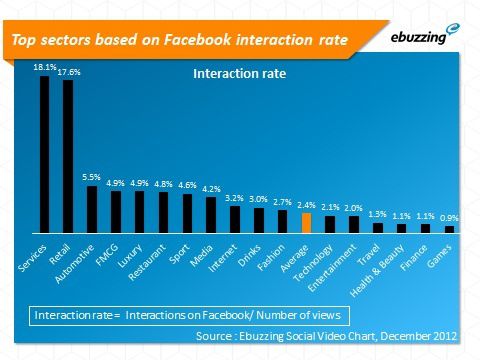 The results for top sector based on Facebook interaction rate demonstrates the problem of having a lot of content but not a lot of interaction. The only sector which manages to encourage interaction whilst producing a high volume of video content is Automotive which has a 5.5% Facebook interaction rate.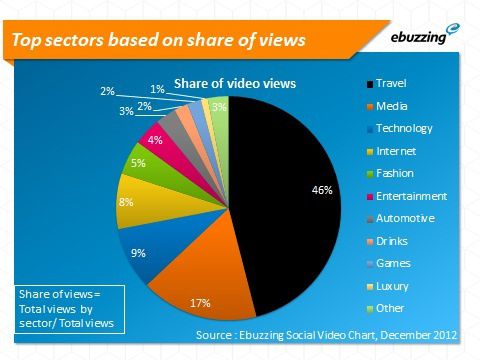 The top sectors based on share of views is where we see the majority of change. The technology sector is the only one to maintain its position in third place, but drops from 12% to 9%. The travel sector shows the biggest change, in November Travel did not even feature as a top sector, one month later it takes 46% of share of views. This is largely due to the hugely successful campaign run by Turkish Airlines.
Turkish Airlines' advertisement featuring Lionel Messi and Kobe Bryant has racked up over 100 million views and 1.1 million Facebook likes since its release in December.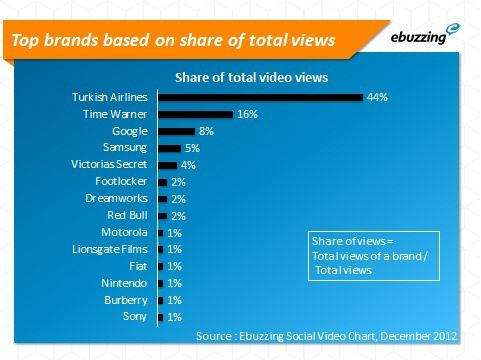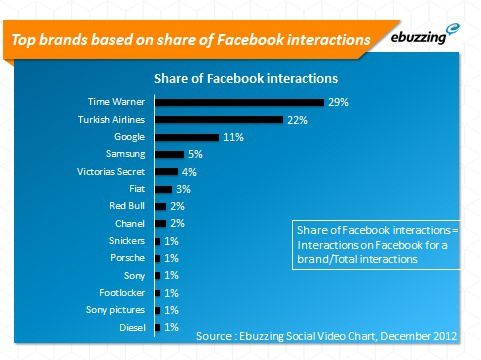 The ad catapulted Turkish Airlines into first place for top brands based on share of total views, claiming 44% and second place for top brands based on share of Facebook interactions. Turkish Airlines nailed the content for this advertisement, the little boy's struggle to decide which of his heroes he should talk to (finally concluded by the ultimate distraction, ice cream) clearly struck a chord for millions of people.
Another brand that does well in both these categories is Time Warner. Their performance coincides with the release of the first Hobbit film, an unexpected journey.
Interestingly neither Turkish Airlines nor Times Warner feature in top brands based on Facebook interaction rate. Instead Snickers takes the top spot with 88.4% followed by Chanel with 53.9%.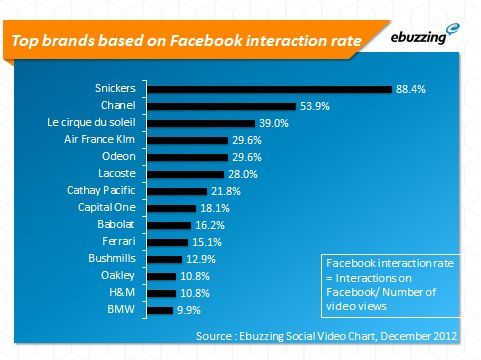 Neither brand features on top brand by share of views and only just make it onto top brands by share of Facebook interactions, with Snickers claiming 1% and Chanel 2%. This suggests that although they do not have as many people viewing their videos they have created more engaging content which leads much more interaction.
Click here to find out more
Watch this space for January's spotlight on social video!