Ebuzzing selected as a Red Herring Top 100 Finalist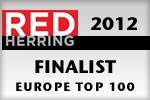 After being named by Media Momentum last week as one of the top 50 fastest growing and innovative companies in Europe, we're pleased to announce that we've also been selected as a Finalist for Red Herring's Top 100 Europe award, a prestigious list honoring the year's most promising technology ventures.
We were selected by the Red Herring editorial team as one of the most innovative companies from a pool of hundreds from across Europe. Finalists for the 2012 edition of the Red Herring 100 Europe award are selected based upon their technological innovation, management strength, market size, investor record, customer acquisition, and financial health.
Frederic Montagnon, Director of Strategy at Ebuzzing has been invited to present Ebuzzing's winning strategy at the Red Herring Europe Forum in Amsterdam, April 23-25, 2012. The Top 100 winners will be announced at a special awards ceremony the evening of April 25.