Ebuzzing study : Cars & Social Media
Which car brands are most represented on social media?

Amongst these brands, which ones are most active on Facebook and which type of post gets followers talking?

Who are the most influential car bloggers and how do they see their relationship with brands?

How does an event like the Frankfurt Motor Show have an effect on social media?
Find out all the answers to these questions in our latest study, Cars & Social Media, which looks into the presence of automotive brands on social media during an 8 month period last year. The results are based on an analysis of 50 million articles per day from 3 million sources (blogs and information sites) in 5 languages, using Ebuzzing's proprietary analytical technology.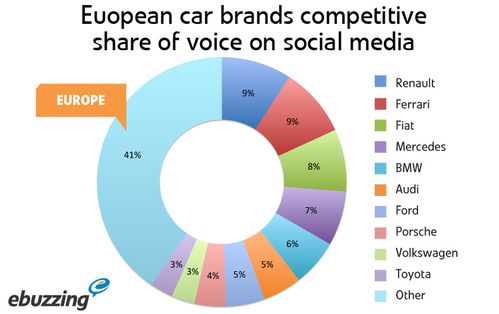 Download the study here for more info on:
Most referenced car brands in the UK on social media

Ranking of car brand Facebook pages

Influential blogs that make car industry news

Car blogger testimonials: what it's like to be a blogger in the industry

Focus on Frankfurt Motor Show : an analysis of the buzz
Happy reading!