How to use Pinterest to your advantage
For the past few months, the media has been abuzz with news and views about Pinterest, the social media phenomenon taking over the World Wide Web. The fact that it is the fastest platform to reach the 10 million user mark; creates more referral traffic than Google+, LinkedIn and YouTube combined; and has recently overtaken Twitter in referral traffic to blogs is obviously impressive. However, these stats made me instantly suspicious of it being a fad and a flash in the pan.
The first thing that intrigued me, when I ventured onto Pinterest, was that I had to request an invite. Far from putting my back up, I quite liked the anticipation of waiting and wondering "Will they, won't they?" By the time my invitation arrived, I was so excited to start pinning and scouring the web that I stayed up until 2a.m. perusing Pinterest and my favourite blogs. I'm a totally visual person, cursed with an imaginative, quirky creativity but absolutely no practical artistic skills. Pinterest fulfills my need to put beautiful and appealing images together and create themes and stories without the hassle of trying to make people understand what I'm attempting to paint or sketch; I can finally indulge my inner (if underused) artist.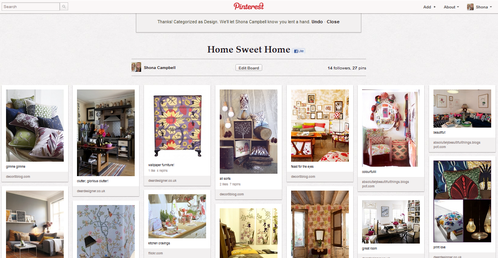 Pinterest provides a creative outlet and is almost an online embodiment of my personality, loves and inspirations. I've recently moved into a new flat so my decor and interiors board, 'Home Sweet Home', has been my main focus and the fact that interiors images are such a strong form of art and expression, have made it the perfect place to start. I enjoy the idea of sharing pins and finding common ground and visual appeal with strangers from across the world; it really does exemplify SOCIAL media.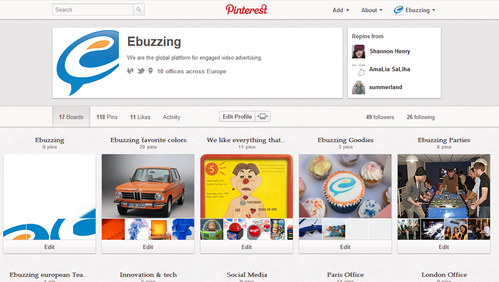 Working in social media and blogger engagement, a huge part of my job is finding relevant publishers so I have an endless resource of content to pin. There has been a lot of news recently about how useful Pinterest can be to marketers and brands, if it's used in the right way. An essential point to remember for businesses is that Pinterest is not about self-promotion and blatant marketing; a more subtle approach is preferable. Pinning images that tie in with or inspire the brand should be used. A great example is Ebuzzing's Pinterest boards, my favourite being "We like everything that goes buzzzzz" and "Ebuzzing's Favourite Colours" – being blue and orange to tie in with our branding. For some more inspiration for your brand's Pinterest, check out this Mashable article.
After 2 weeks on Pinterest, I can safely say I'm one of their biggest fans. Far from a flash in the pan, it's a flash of brilliance and I can't wait to see what they come up with next!