Innovative Reporting: The Ebuzzing Social Analytics Dashboard
Presenting the industry's most advanced video reporting: The Ebuzzing Social Analytics Dashboard
At Ebuzzing Social we pride ourselves on being the global experts in social video advertising, so we continuously look to develop innovative new tools for our clients. That's why we have been constantly improving and adding to our Analytical Dashboard over the last 7 years to produce the industry's most comprehensive insight package.
The Ebuzzing Social Analytics Dashboard already measures reach, impact, tonality, sentiment and share of voice, among other metrics. We are now introducing brand new features to provide even greater insights into a video campaign's performance.
• Improved usability of the dashboard to simplify access and deepen understanding of your campaign's results.
• Sector benchmarking to compare your campaign to others in the same industry
Optimised Usability
Our brand new help button explains all the key data you should know about your video campaign. The function is available across the entire dashboard and explains where the numbers come from and the different ways you can view the stats to get a better idea of your campaign's performance.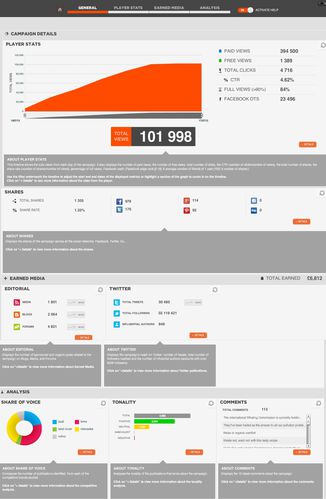 Industry Benchmarks
Our new benchmarking function allows you to see quickly and simply how your campaign compares to others in the same sector. The number of published videos, share of views, share of choice and interaction rate are considered against those of your competitors so you see an accurate snapshot of your campaign.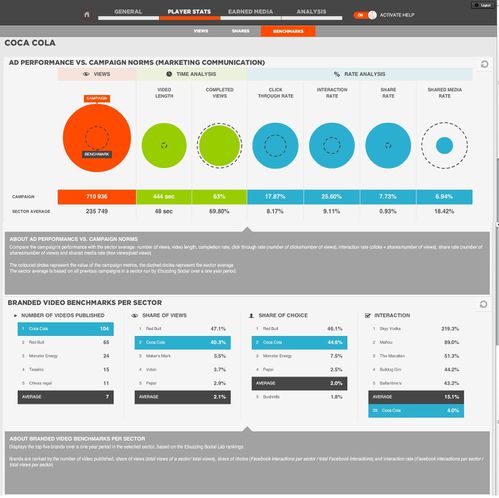 To find out more about the Ebuzzing Social Analytics Dashboard contact marketing@ebuzzing.com