Midnight in Paris, love from Ebuzzing
As you may have read a few months ago, we held our Halloween-themed party. We had just the right prize for one special lady; Katie Murphy from OMD was the lucky winner of a luxury stay in Paris. Find out from Katie about her trip to the romantic capital.
I couldn't believe my luck when I won the raffle at the Ebuzzing party at the Century club. I was even more stunned when the prize was revealed...a weekend for two at a luxury hotel in Paris! It was such an incredible prize and I was still in a state of shock for most of the next day (not helped by the fact my head was pounding after far too many celebratory glasses of wine!)
Skip forward a few weeks and my boyfriend and I are boarding the Eurostar ready for a weekend of wine, French cuisine and doing terrible impersonations of characters from 'Allo 'Allo.
We weren't disappointed. We scaled the Eiffel Tower (by foot because we're well 'ard), drank mulled wine from the Christmas market at the Champs-Élysées, checked out some galleries in the Marais district and hit some bars in the Latin Quarter. I even managed to squeeze in a trip to Ladurée – the best place for macaroons known to man.
The Radisson Le Dokhan certainly lived up to its 'luxury hotel' title. Situated just a few streets from the Eiffel Tower, it was perfectly located for a weekend jaunt, and the croissants at breakfast were incredible!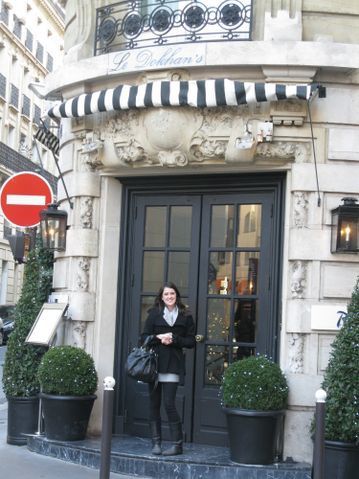 All in all it was an incredible weekend. On behalf of my boyfriend and I, we would like to say a massive MERCI BEAUCOUP to Ebuzzing for the best early Christmas present, and a special thanks to Adwoa for organising it all.
We're very happy Katie had such a lovely time! Stay tuned to find out what other treats Ebuzzing has in store for lucky prize-winners. What would be your ideal treat from Ebuzzing?