Personal Shop Assistant in your pocket
Anyone can have a personal shop assistant – if you have an iPhone. And if you've downloaded the wonderful new app, Swirl.
I came across news on this nifty app that is currently only available in the US. It describes itself as a "personal shopping assistant" and is the creation of Hilmi Ozguc, a man known to be a serial entrepreneur after he sold Maven Networks to Yahoo! for $160 million and Narrative Communications to @Home Networks for $100 million. Swirl is his most recent brain-child.

Released as an iOS app as well as a website (www.swirl.com) Swirl hopes to change the game when it comes to offline shopping. Essentially the app hopes to augment the offline shopping experience by helping you find your desired items, save time, and hopefully save some money, too.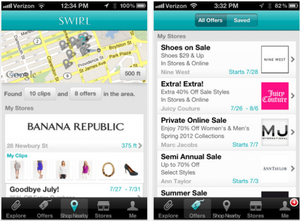 Using mobile capabilities to enhance real life situations and experiences, instead of establishing mobile as a platform in itself, Ozguc himself has described what he's created as "zigging while everyone else is sagging." Whilst some may say it belittles mobile and the potential it may or may not have in itself, using mobile to augment and aid offline activities instead of replacing them seems like a stroke of genius. Not only is there the obvious: that people, and especially those who shop (and shop often), are always carrying round a smartphone with them. Where do they turn when they need help? To their phones. That part makes perfect sense.

Add to this the fact that 90% of all sales revenue for fashion brands comes from offline sales and you can begin to see where Swirl will fit in, and how easily they will fit.

Apparently, he's not the only one who has seen the potential. Covering 30,000 stores, 100,000 items and 220 deals already, and with the likes of Macy's and Old Navy on board, it will only be a matter of time until fashion brands begin to flock to Swirl like fashion-lovers to a sale. In addition, they have just received $6 million after their first round of funding. This is certainly one to watch, and it's an interesting one.

Reading blogs on a day-to-day basis, we at Ebuzzing know the value of offline – what with blogger meetups, picnics, photos of clothes found whilst exploring London appearing on fashion blogs, to name just a few examples, 'real life' is just as important as online. Swirl seems like an exciting bridge between marketplaces like ASOS, for example, and the real experience of a hectic day of shopping. We can't wait to try it out!