Social Media Buzz : 26.09.11
It's another lovely Monday, and time to get updated on the most talked about Social Media News floating around this week. Today we look at Facebook's latest platform redesign; online karaoke for the masses; Google's effect on memory; love and technology; and how UK students are most likely to be distracted by Social Media. Let us know what you think of all the latest news by leaving a comment below.


Facebook introduces the Timeline

Facebook announced feature updates to its platform last Thursday, at its F8 conference. The conference aims to bring together the developers, entrepreneurs and innovators who are building a more social web. Facebook has now released it's new Timeline to its community of developers, and introduced a more MySpace page-style layout. The Timeline is all about life, and showcasing the different relationships that have been built along the way. Whilst you may have forgotten that shoddy haircut you had 8 years ago, the dodgy night out, etc, Facebook definitely hasn't and now all of your many photos will be on display in chronological order. Take a look at what the whole profile will look like from now on.
Online Karaoke platform, Singboard launches

Singboard, a new and allegedly much better version of online karaoke is currently in beta. According to its co-founder and CEO, it is where Youtube meets karaoke. Users can choose from top 100 music videos,with an overlay displaying lyrics. The platform will enable users to stream music videos without the vocals, so that they can sing to their hearts content, following the lyrics on-screen. Users will get the proper karaoke feel, of being able to choose from a large array of their favourite tracks, in their own homes.
How Google affects memory and learning

Recently I read an article about the apparent memory loss of the digital generation. Studies have now shown, how Google and the internet in general, have contributed to the way in which we digest and store information. Not that long ago, we would spend time at the library researching and subscribe to multiple magazines to keep our knowledge up-to-date and relevant. Nowadays, the situation is completely different, as we rely heavily on Google for all the answers we may need.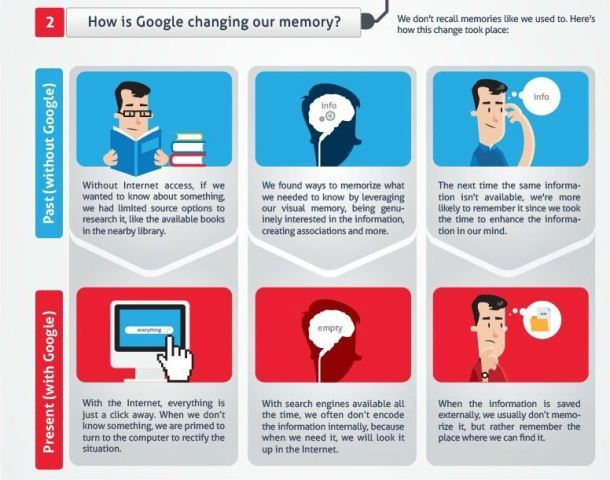 Take a look at this Google ad, to see how much the search engine plays a part in our lives and click here to find out more about Google and your memory.


Love & Technology: the evolution of the long-distance relationship

Long-distance relationships require a lot of effort from both parties, but with ever-evolving technology that distance isn't so much of a problem any more. New technologies over the ages, have increasingly brought couples closer together. First there were letters, then emails, texts, Skype and now Google + hangouts. For the tech-savvy, there is no longer reason to feel like you're apart from a loved one. A recent infographic from social entertainment platform, Rounds, shows the journey the long-distance relationship has taken from the age of the cave man to the digital age.
UK students 'most distracted by social media'

I'm not quite sure whether this should be a cause for concern, or just something to be aware of. Last week, a global survey revealed that UK people under 30 were the most likely to be distracted by Social Media sites, such as Facebook and Twitter, as compared to 13 other countries. We also have some of the most connected young people in the UK, coming second only to China. The Telegraph notes that there is a whole new attitude towards the internet, with under-30s feeling that it is an important fundamental human resource, as much as air, water and food.


More interesting stories:

- Woman decapitated in Mexico in retaliation for social-network posts

- AmazonLocal, a Groupon in the making?

- LinkedIn and Twitter should become Facebook apps

--

If you enjoyed reading this post, then subscribe to our RSS feed for the latest on the Ebuzzing blog.